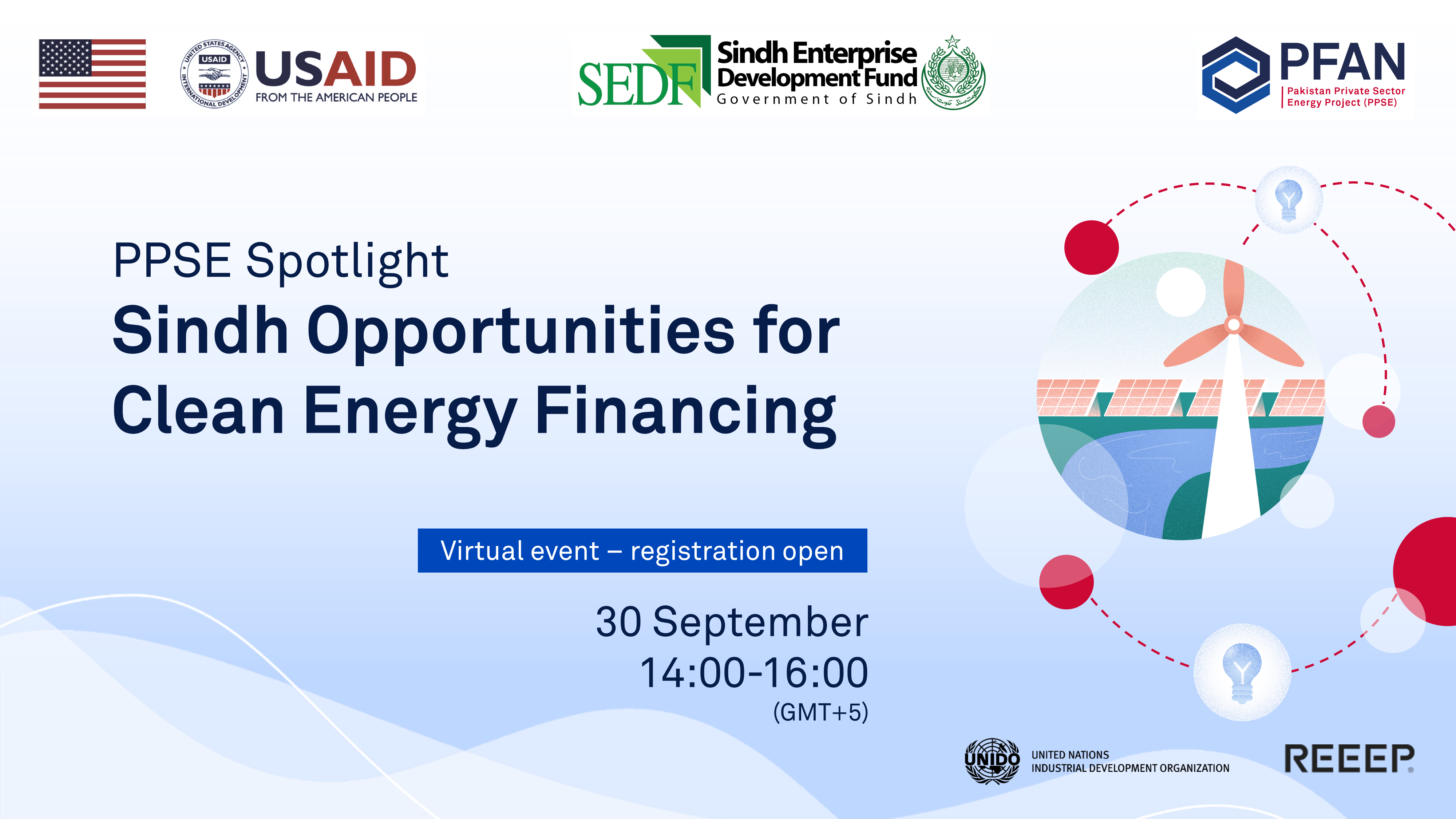 PPSE Spotlight on Sindh: Opportunities for Clean Energy Financing
Each of Pakistan's five provinces are unique landscapes, culture, customs, needs and opportunities. This is why, PFAN's Pakistan Private Sector Energy Project is attuned and culturally cognizant of engaging energy stakeholders from each province to shed light on provincial challenges and possibility of a greener Pakistan, together.
Our provincial event focusing on the Southern province of Sindh is kicking off our provincial spotlight series!
In collaboration with the Sindh Enterprise Development Fund, this online event is an opportunity to delve deeper in to the opportunities and challenges for clean energy deployment and financing solutions, particularly targeting agricultural value chains in biomass, biogas, solar and wind energy, with key private & public stakeholders.
Sindh, home to Pakistan's largest city of Karachi and an expanse of urban and rural landscapes, the province provides dynamic opportunities to become an industry leader in the country's green transition. The Government of Sindh has a vision to encourage investment in the SME sector, foster innovation and make strategic public-private partnerships to capture the province's entrepreneurial potential.
The Pakistan Private Sector Energy project (PPSE) focuses on expanding the portfolio of commercially-viable clean energy projects in Pakistan and providing support to enable them to access financing and reach financial close. Funded by USAID, housed at UNIDO and implemented by PFAN, PPSE leverages the successful model of the Private Financing Advisory Network in supporting clean energy companies becoming more investment ready and strengthening the pipeline of green technology ecosystem. PFAN Global has raised $2 Billion to date for companies in its project pipeline and is extending support and expertise to Pakistani green-companies as well.
Capturing the cultural context and realities of Sindh is imperative to drive clean energy generation in the province and country – join the discussion, connect, make an impact!
When: 30th September 2021, 14.00 – 16:00 hrs (Pakistan time)