CII Green Power Conference 2021, 9 – 10 December
PFAN has a longstanding partnership with the Confederation of Indian Industry (CII), and we are partnering once again this year with CII to help organise the Finance Session of Green Power Conference 2021—CII's flagship summit in renewable energy. The event plays a key role in supporting the achievement of India's goals and targets in renewable energy by promoting policy development, finance facilitation, and business excellence.
The 2021 Green Power Conference will bring in delegates, eminent international and national experts to share the latest trend in policy and regulation as well as in renewable energy technologies and financing.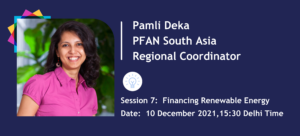 The event will be hosted virtually between December 9th and 10th 2021. PFAN senior expert—Pamli Deka will chair a session on Green Economic Recovery with eminent industry experts as panelists. The session focuses on innovative measures to boost renewable energy financing after the COVID-19 pandemic.
📅 10 December 2021
🕐 15:30 (Delhi time)
Please click on the registration links below to join us at one of the most exciting events in the region, here
For more information about the conference, please contact: Pamli Deka, PFAN South Asia Regional Coordinator, Pamli.deka@pfan.net