Twenty-Six Public Sector Organizations in Pakistan Trained on Solar PPAs
Pakistan is blessed with abundant sunshine in all provinces of the country and throughout the year. This is a natural resource that many other countries around the world covet. Understanding this unique opportunity for the country to combat emissions and build climate resilience, the Pakistan Private Sector Energy (PPSE) Project held a 2-day training, at Avari Hotel Lahore from 2-3 March 2023, for relevant private and public sector institutions that are interested in exploring solar power purchase agreement (PPA) models.
PPSE is a USAID funded project, implemented by PFAN in partnership with UNIDO and REEEP.
The training was held in partnership with the Punjab Public Private Partnership Authority (PPPA) that has developed a sector diversification strategy to explore PPP opportunities in futuristic sectors e.g. technology, renewables, climate change and other sustainable development areas. PPPA is also exploring multidimensional areas in clean energy, energy efficiency and generation of renewable energy through waste management.
The training was inaugurated by Amjad Ali Awan, CEO PPPA, who elucidated the importance of public-private partnerships in helping Pakistan achieve the extensive solar energy generation and distribution needed to ween off detrimental fossil fuels, that have large negative externalities for the climate and economy in the long-run.
"I am grateful to USAID, UNIDO, PFAN and all the organizations committed to renewables for initiating and leading this kind of training. In Pakistan we are lacking the technical expertise to transition to more sustainable energy sources and these kinds of knowledge and expertise building sessions will help empower our public sector to take action," said Mr. Awan.
Ahmed Ammar Yasser, PPSE Chief of Party, speaking to the potential of the PPA Market, shared that it is estimated to generate 162 MW in power. Further, the size of the PPAs varies from customer to customer, with some as low as 150kW and as high as 28 MW.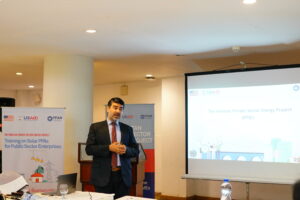 "PPA is a successful B2B model for solar power generation as it benefits the company and the consumer. Replicating this model to B2G has immense potential for scaling up solar in Pakistan and greening government buildings," said Mr. Yasser.
The lead trainer was Engineer Faiz Bhutta, CEO, Energy Training and Research Center (ETRC), an integrated platform for research and training in various energy sectors, focusing on energy policy, regulations, markets, and standards.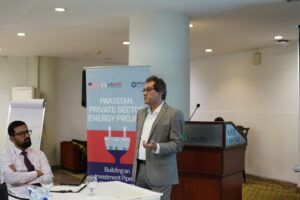 Additionally, sessions also featured experience sharing by user departments, project developers and EPC Companies, that helped participants ask technical and practical questions from veteran solar professionals. Around 30 participants attended the training from PPSE's project pipeline, advisor network and public organizations including, Punjab Power Development Board, Punjab Small Industries Corporation, Transport Department Punjab, etc.
PPSE's current pipeline consists of 36% solar projects, much of which are PPAs from almost every province in Pakistan that is testament to the overarching potential of solar power in the country.