Clean energy financing in Pakistan, an effort for framing the issues
The flagship report Global Landscape of Climate Finance 2021 estimates total climate finance has steadily increased over the last decade, reaching USD 632 billion in 2019/2020 and the future climate finance necessary to maintain 1.5°C pathway is nowhere near estimated needs, estimated at USD 4.5 – 5 trillion annually. In this decade, climate investment has to increase drastically to achieve the 1.5°C pathway. 
Pakistan's Nationally Determined Contribution (NDC) revealed that the country needs USD 40 billion to reduce 20 % of its emissions for 2030 and USD 7-14 billion annually for adaptation. State Bank of Pakistan (SBP) has recently announced the extension of the financing scheme for renewable energy through conventional and Islamic financing facility for the next 2 years, June 30, 2024. The scheme was originally introduced in 2016, and it has been extended twice since its creation. Its purpose is to lend support in addressing energy shortages and climate change through the promotion of renewable energy. While this is a great start, further policies need to be developed and private sector investment to go up in the immediate future to bridge the gap in financing.  
In this context, Pakistan Private Sector Energy Project (PPSE) through its recently established Clean Energy Financing Pakistan Task Force (CEFP-TF) reviewed some of the challenges and opportunities in the clean energy financing space such as continued dependency on fossil fuels, limited capacity for green products' certification and a secondary market for solar panels during its first convening last 27 July in Karachi. The outcomes from the convening, a brainstorming session, are displayed in the Mind Map (online visual), and also presented below: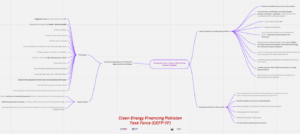 *zoom in and out, please 
About the Pakistan Private Sector Energy Project 
The Pakistan Private Sector Energy Project (PPSE), launched in February 2021, is a USAID-funded project implemented with the Private Financing Advisory Network (PFAN), hosted jointly by the United Nations Industrial Development Organization (UNIDO) and the Renewable Energy and Energy Efficiency Partnership (REEEP).