On October 28 2021, 12 start-up businesses made their business plan pitches followed by probing questions from a panel of judges, namely Jayson Koh of EcoLabs Centre of Innovation for Energy, Claire Curry of BloombergNEF, and Peter du Pont of PFAN Asia Regional Coordinator
The 2021 winners have been selected:
1. WeavAir, which has developed a sensor-based, IoT solution that reduces energy by 30-40% while improving indoor air quality, won the Private Financing Advisory Network (PFAN) Award, valued at SGD 13,000.
2. DiviGas, which invented a new hydrogen membrane, a nano-molecule filter that enables carbon removal to purify hydrogen, won the BloombergNEF Award, valued at SGD 82,000.
3. SunGreenH2, which is building the world's highest efficiency water electrolyzer using advanced nanostructured materials, won the EcoLabs Centre of Innovation for Energy Award, valued at SGD 100,000.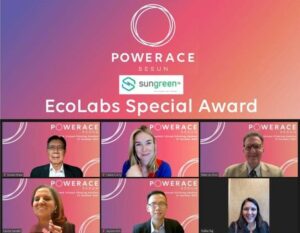 For more information about the event, or the companies, contact David Yeo, PFAN Regional Transaction Manager in Singapore (david.yeo@pfan.net).